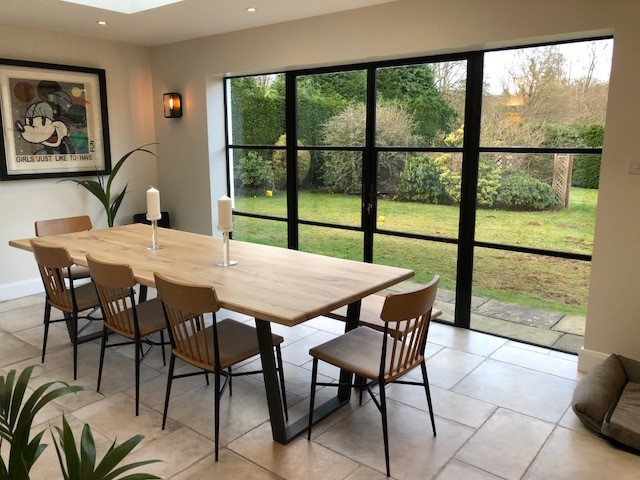 The Property
A huge extension to a period property in Oxted, Surrey presented Claire T and her family with the perfect opportunity to replace the metal windows in their arts and crafts-style home.
The original windows looked beautiful, but they let in drafts and let out heat, resulting in astronomical energy bills. Claire needed to replace the windows in the original part of the house and use the same product in the new 1000 sq. ft extension.
She began looking into window companies which specialised in manufacturing metal windows whilst delivering both on looks and good thermal ratings. However, it was proving a challenge to find both, and she feared she would need to compromise on one of them, when a friend, who was undertaking a huge building project, recommended Met Therm Windows, who she had for a project of her own.
The Consultation Process
The Met Therm team were soon on site and ready to begin the project, which began in 2017. Regular consultation took place and Met Therm were able to pass on the benefit of their expertise and guide Claire through product selection and the installation work that would be carried out.
"The process of working with Met Therm was brilliant – and easy," explained Claire. "They came out equipped with samples, did a site survey and took measurements off plan. They were also really helpful as they gave some great recommendations when it came to deciding how many openings to have, for example".
"Because we were both replacing windows and installing windows into a new build there were definite deadlines which had to be met, such as getting the property watertight. Met Therm happily liaised with our builder and pulled out all the stops to ensure this happened."
Benefits of Installing Metal-Frame Windows
This extensive project included 17 black powder-coated windows with rectangular leading and a striking 3m wide aluminium French-style door, situated in the newly extended 80sq. m kitchen.
The oak subframes of the windows were kept at the front of the house. At the back however, the metal frames of the windows were fitted directly onto the brickwork to ensure as much light as possible is let in.
"The original windows looked beautiful but were inefficient," admitted Claire. "What I love about our new Met Therm windows is that we were able to maintain the style and detailing of our original windows, so they are almost indistinguishable from the originals, and I chose the RTD Matt handles, which look amazing against the black frames. I also love the thermally-efficient frames and glass, so we don't have to tape up our windows anymore to keep out drafts."
She also reflected: "Life with our new windows is wonderful. Everyone who comes to the house comments on how amazing the windows are. Met Therm was a fantastic company to work with: very efficient, helpful and thorough. My friend who recommended them believes that it's all about who you use – and she was right. I will be recommending Met Therm too."