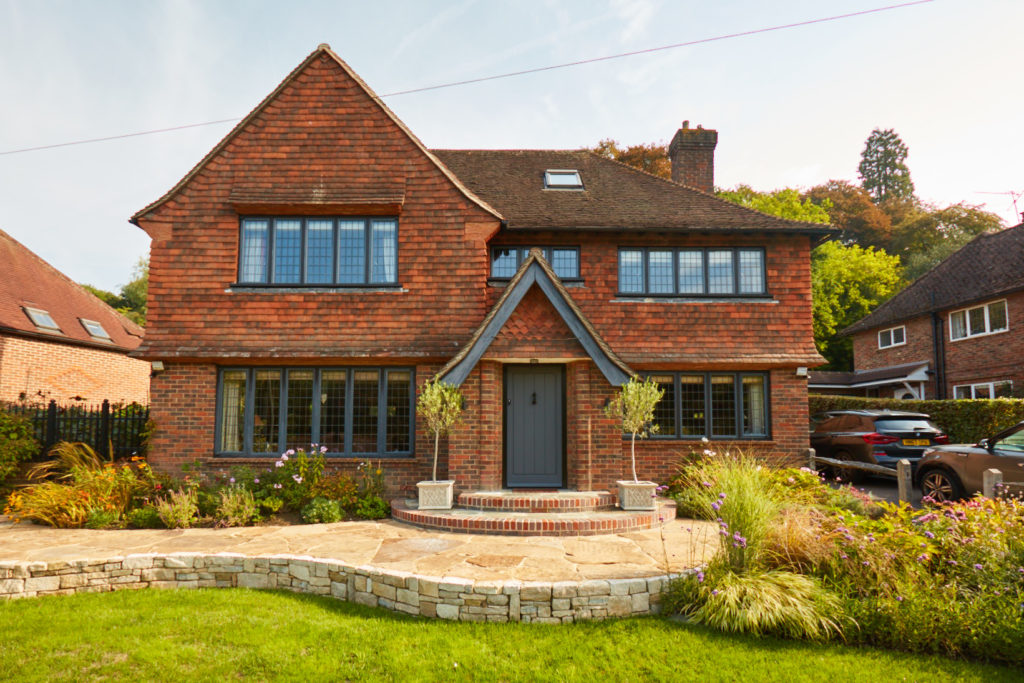 The Property
Stella and John Mills spent several decades living in Europe before returning to the UK and settling down in a 1940s detached home in Haslemere, Surrey, in 2002.
They fell in love with their pretty Rhodes-built property and its cul-de-sac location but quickly realised the original, leaded windows looked tired, were energy-inefficient and would eventually need replacing. That set the Mills family on a journey that would lead them to Met Therm Windows, their local metal frame window experts.
The Challenge
The problem facing Stella and John was two-fold; finding authentic replacement windows while retaining the original oak subframes and mullions.
Stella recalled: "The original windows were lovely, and we didn't want to change the look because the house has real charm. The problem was heat was escaping out of the old windows and we needed better insulation. We wanted to keep the oak subframes and mullions as they are really beautiful and part of the character of the house."
"We looked at what Met Therm could do and immediately liked what we saw, and were delighted when they told us it was no problem to keep the oak surrounds, they would only need to change the metal inserts. The old steel frames were warped by the sun, and were tricky to take out, but Met Therm were so careful that nothing was damaged, they were just great".
Stella and John conducted thorough research before opting to use Met Therm Windows. Met Therm's AG210 metal windows are the slimmest A+10 rated thermal, broken metal windows available and come with a 10-year guarantee.
The Met Therm team installed 13 new metal-frame windows containing 45 glass panes. The retired couple chose frames in a RAL 7015 slate grey, semi-gloss finish. Side-hung windows were fitted with weld-on extended hinges with classic handles and butterfly sliding stays in satin chrome. The top hung windows were fitted with standard weld-on hinges with inline handles, also in satin chrome.
Not only did Met Therm manage to keep the original oak mullions and subframes but they also made some minor repairs to existing damage.
Benefits of Met Therm Windows
Stella admits the family home is now warmer and quieter thanks to the improved, thermally-efficient frames and double glazing that were supplied and installed by Met Therm.
"The difference in heat retention and noise reduction is off the scale," said Stella. "We rarely put the heating on. The windows have a thermal break, so it immediately felt warmer inside. The old windows would often build up condensation, but we don't have that with the new ones."
"We live quite near a park, and we noticed a change in the noise we could hear as soon as the new windows went in. It's so quiet now, we don't hear a thing."  
First-Class Service
Met Therm took two days to install the new metal frame windows and the couple are delighted with the service they received and the quality of the products on offer from an established and professional company like Met Therm. Stella was also bowled over by the level of aftercare Met Therm showed when one of the windows smashed in a violent storm.
"The windows had been in a while, so we called Met Therm," she said. "They were on the case immediately and quickly found the details for the replacement glass and arranged to come and swap it without any fuss or hassle.  Met Therm still call me now to ask how I am and see how the windows are. The service from start to finish is exceptional."
She added: "The team were efficient, clean, tidy and pleasant throughout. They were respectful and always professional. People always mention how good the windows look and I have recommended Met Therm to others and will continue to do so."