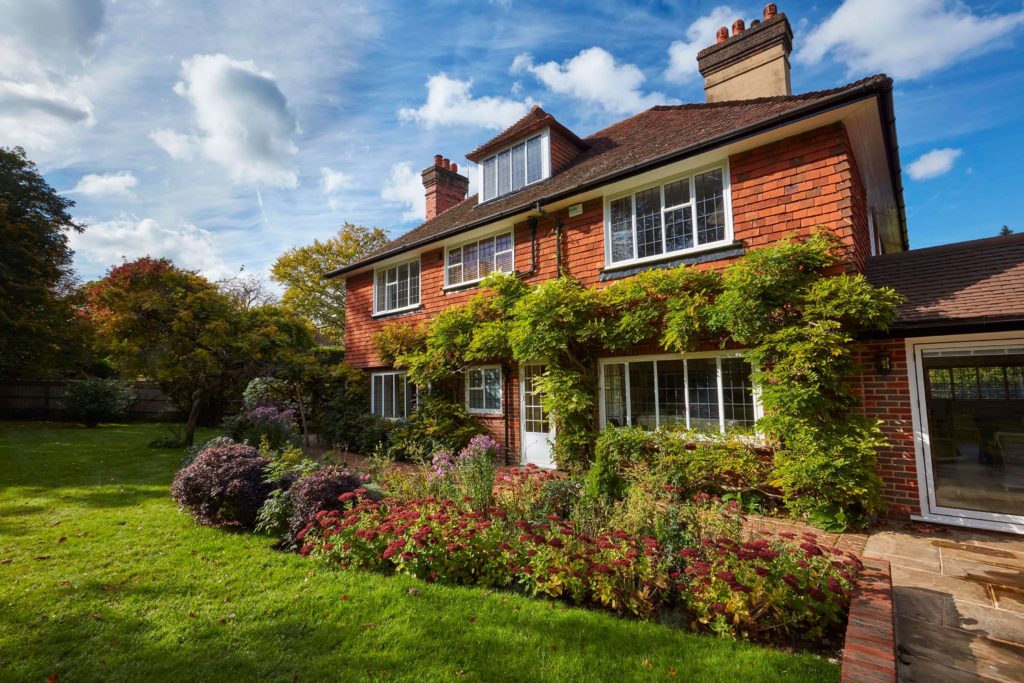 Met Therm Windows pride themselves in supplying buyers with beautiful, high-quality windows to suit a range of different needs. In this case, find out how the team helped to restore presenter Michael Buerk's 1920s family farmhouse with their stunning, hand-crafted windows. 
The Property 
Journalist and newsreader Michael Buerk and his wife Christine bought their family home close to Guildford back in 1981. The traditional farmhouse-style house was in a bad state; however, the couple felt sure that with some love and attention they could restore the property back to its former glory.    
Many would say that part of the beauty of a Surrey farmhouse-style home built in 1929 are its original steel windows, but sadly in this case, it was this exact source of beauty that proved problematic.  
The Original Windows 
After the sale was finalised, Michael and Christine set about making extensive renovations to their new property. This proved to be a monumental task, and so at first the windows were left alone – despite being draughty and no longer fitting well.  To make the best of a bad situation, Christine painstakingly set about restoring the window handles to their original brass, by removing the black paint that had been added in previous years. 
Almost 40 years later, when carrying out some other home improvements, the need to address their windows dawned on Michael and Christine once again. The original steel windows were still draughty, the fit had become even worse, and the cold seeping in had begun to substantially affect the warmth and energy efficiency of the house. 
So, the couple had two choices; they could retain the original windows and contact a restoration company to carry out repairs, or they could have them all replaced. Wanting to preserve the integrity of the house, they first looked into the former option. Unfortunately, though, a few problems soon transpired with this, namely, they would still have single-glazed windows – meaning there would be minimal improvement to the warmth of the house, and a restoration was considerably expensive.  
Solving the Problem 
And so began the journey toward replacing the windows.  
"We went to several window companies, looking for replacements, however it appeared we were going to have to compromise. It seemed we could either have windows with a good energy efficiency rating, or the windows with slim line framing. Then our builder recommended Met Therm Windows.  We not only liked the product displayed in their showroom, but we really liked the team themselves; they were warm, friendly and efficient. Their unique selling point was replacing windows in period properties with an Energy Efficient A + 10-rated window which maintained the slim frames. By using the AG210 window we didn't have to compromise after all.   
The first phase of our renovations took place four years ago, when we redid our bathrooms and bedrooms, and Met Therm replaced some of the windows.  More recently when we extended our kitchen, we contacted Met Therm again as we knew we could use their windows in both our new build work as well as replacing the remaining existing windows" explained Christine.  
Met Therm Installation 
Met Therm installed their AG210 windows into the existing wooden surrounds everywhere apart from in the kitchen, where there were new surrounds. In addition to providing the essential slim line frames, Michael and Christine's new windows featured:
Concealed friction hinges. These are neat and subtle, enabling easy cleaning from the inside.   
Multipoint locking and key locking handles with a night vent facility (this comes as standard).  
Polyester powder coated frames in RAL signal white in a semi-gloss finish inside and out.  
Blackened and soldered simulated leads to match the original design; and by applying the lead to the inside and outside of the outer pane, cleaning is easier than ever before. 
Additionally, Met Therm were able to recreate the horizontal bar and cottage pane designs using their applied system to achieve sympathetic replacements of the original doors.
The Final Results 
Michael and Christine are delighted with the final look of the windows of their gorgeous 1920s home: 
"Whilst it took us a long time to finally replace our windows, we are so impressed with what Met Therm has done," said Christine, "The installation process was straight forward and the team kept it all clean and tidy." 
"Met Therm's commitment to customer satisfaction extended to replacing – free of charge – the handles which were originally fitted on the first phase of the renovation, to a brushed brass finish handle which had been launched since installation. This meant all the handles in the house matched.   
While contemplating having the windows replaced, Michael and I walked around the area looking at other homes and became conscious of what looks good and what doesn't. We realised that we wouldn't like the effect on the house if it didn't have the same slim frames as the originals did. You really do notice when it's been done well and that's why we're so pleased we chose Met Therm." added Christine.  
"Our new windows have made a huge difference to the warmth and energy efficiency of the house; and aesthetically, it is exactly what we were looking for.  We wanted the windows to look like the originals, and they do.  In fact, we've had visitors who haven't even realised we have had them changed – a perfect validation that Met Therm Windows was the right choice"